An absolute must-have during this festive occasion! Our  is the ultimate science experiment and a great decoration for your desk. Set up your Christmas tree according to the instructions and in just a few hours your tree will be covered with gorgeous colorful crystals! This Christmas tree is sure to fascinate both kids and adults with its crystal growing design. It uses the principle of crystallization that enables the crystals to grow and turn it into a beautiful Xmas tree!Simply add the special magic liquid to the base of the cardboard tree and watch the crystals grow. You will see the tree sprouts green foliage on its branches.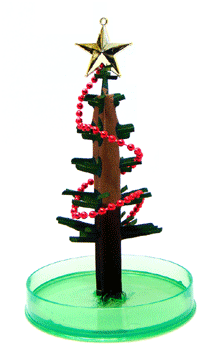 Instructions
1. Put the paper tree on the plate
2. Separate the forks
3. Put the decoration items on the tree
4. Pour magic water on the tree
5. The paper tree slowly sprouts, and the flowers bloom on the tree 20 hours later.
Precautions
1. Divide the branches into trees before the growning starts
2. Decoration needs to be put in the early stage
3. Do not put in a place with ventilation or warm sunlight
4. Don't move often
5. It is a scientific experimental toy of physical principles
6. It is not recommended to plant this tree in rainy, foggy or humid weather.
Specs:

Dimensions: Height 4.35 x Diameter 2.76 inch
100% Non-Toxic Material